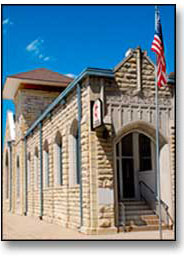 Church school
9:30 a.m. Sunday
Coffee fellowship
10:25 a.m. Sunday
Worship
10:45 a.m. Sunday
Pastor: Martin Holler
This old stone church in the heart of Marion, Kansas, with a vintage pipe organ and more than a dozen classic stained-glass windows, has been a faithful witness for a compassionate God since the town's earliest days, yet the rich history of our past is not nearly so exciting as the possibility of our future.
Valley Church puts its whole heart into bringing God's children home. In the midst of a chaotic culture, many have found warmth, joy, and a sense of belonging here. We aim to build relationships with those who do not yet know the love and caring of genuine Christian community, hoping ultimately to bring our friends to a relationship with the One who calls and claims each of us as God's children.
We hope you will be able to worship with us soon.
→ This month's church calendar
Stepping Stones Preschool
An early step toward a Godly walk. Scholarships available for 3, 4 and 5 year olds. Contact Tristen Cope at 620-382-3142 or email administration@marionvalleyumc.net ­.
Stepping Stones Preschool is taking applications for 2015-2016 school year. It is a preschool that serves children ages 3-5. Stepping Stones Preschool is Church Related (religious affiliated) and has a capacity of 25 children. Tristen Cope is the Teacher. Scholarships available. Check for tuition cost with us. Follow Stepping Stones Preschool on Facebook.
United Methodist Women:
The UMW is making care packages for our college students. If you macaroni and cheese packages and Nutella. You can bring food items, gum, stress relievers (balloons??) or whatever you think they might enjoy.
If you have a college student please let the church office know as we don't want to forget anyone. We also need addresses.
Questions may be directed to Margaret Wilson or any UMW member.
Thank you so much for supporting this ministry for our youth.
Sign up to receive our newsletter